Luna's Characters

---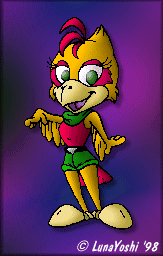 Name: Luna DeLarrett
Fur Color: Goldish yellow
Aircraft: "Crystal Enigma"
Species: Golden Eagle
Age: 19
Gender: Female
Birthplace: Corneria
Occupation: Member of the Husky Squadron on Katina.
Status: Good
Planet Force: Katina
Marital Status: Single
Boyfriend/Girlfriend: None
Relatives: None known of
Friends: The deceased Minerva Lugreko and Denver Peron.
Character Bio: Orphaned at birth, Luna was adopted into the Cornerian Air Academy where she was groomed to become a skilled pilot for the Cornerian Defence Force. While at the Academy, she made friends with two cheerful students named Minerva Lugreko and Denver Peron, who she graduated alongside with.

Assigned as patrol units on Fortuna, the three were sent to inspect the base when it didn't respond to radio transmissions. They were brutally ambushed and Luna was the only one to return to Corneria, emotionally devistated. She swore revenge on the Venomian troops and currently flies alongside Bill Grey and his Husky Squadron, and at times she helps out the Starfox team when necessary.

Special Skills: Above-average intellegence, life-long experience in aircrafts.
5 Quotes: "What're you gockin' at, Falco?"
"Omigod.... is that what I think it is?"
"Haha, two words to describe you, Venom trash: Pond-Scum"
"Leave me alone! What'd I ever do to you?! Aside from shorting out your thrusters,
taking you by surprise, shooting down your buddies......"
"What? What'd I do? Was it something I said?..."
Other Info: When she's not shooting down Venomian pilots, she enjoys jigsaw puzzles and videogames (especially flight-sims).

Pic drawn by: LunaYoshi

---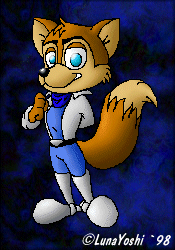 Name: Denver Peron
Fur Color: Burnt Sienna
Aircraft: "Stellar Invisibility"
Species: Coyote
Age: 19
Gender: Male
Birthplace: Zoness
Occupation: (Deceased)
Status: Good
Planet Force: Katina
Marital Status: (Deceased)
Relatives: Jakaar, his father and Siren, his mother.
Friends: Minerva Lugreko and Luna DeLarrett
Character Bio: Denver grew up an average life. At age 5 his parents moved from Zoness to Corneria where he went to the Cornerian Air Academy, where he made friends with Minerva Lugreko and later Luna DeLarrett. After graduating, he and his friends were patroling Fortuna as instructed when the three were ambushed and Denver was put to his bitter death.
Special skills: His bullseye-quality aim.
5 Quotes: "Watch the deck there, guys..."
"Splendid!"
"Whoa, SHOOT I'm high up!"
"Go away, go away, go away!!"
"Ew, that'll leave a mark..."
Other Info: He will be missed.......

Pic drawn by: LunaYoshi

---
Name: Minerva Lugreko
Fur Color: Deep Violet
Aircraft: "Baracade"
Species: Raccoon
Age: 19
Gender: Female
Birthplace: Corneria
Occupation: (Deceased)
Status: Good
Planet Force: Katina
Marital Status: (Deceased)
Relatives: Samantha, her mother (Deceased), Piccolo, her sister.
Friends: Denver Peron and Luna Lugreko
Character Bio: Minerva grew up in a troubled family, often slipping out her window at night and sleeping in the park to get away from all the yelling and accusations, only to return through her window in the early morning. When she attended the Cornerian Air Academy and made friends with Denver and Luna, they provided support she had never recieved before, and this made her heart soar. On loud argumentative nights, Luna or Denver would sneek her into their room where she would sleep soundly and happily.

After graduating with her friends from the Academy, during a routine patrol run on Fortuna, they were ambushed by Venomian units. She watched in horror as her friend Denver's aircraft lit the sky red after being brutally shot down. This was the last thing she ever saw before being shot down next to him.

Special skills: Advanced in the element of surprise.
5 Quotes: "(sarcastic laugh) Good one."
"This one's for you, Denver..."
"What the....??"
" 'Evade' THIS, Venom geeks!"
"Haha, that one's on the rocks."
Other Info: She will be missed.....

Pic drawn by: LunaYoshi

---
Back to the Profiles page